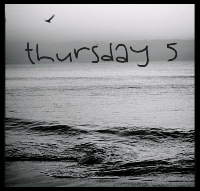 The words for today's Thursday Five are….

Outstanding
Proud
Energized
Splendid
Wonderful
1. I'm truly feeling
outstanding
today. I just got home from meeting a gal that wanted to sign up to be part of my Tupperware team. I'm sooo excited. She's member #2 (not counting myself, of course) and I'm looking forward to growing my team even more. It's going to be an
outstanding
year.
2. With all the devastation in Japan after the 9.0 earthquake, tsunami, and radiation problems, I am so proud of our military that are helping aid all those suffering. I know I'll continue to be proud of our military, as we have the best military in the world.
3. I wish I felt more energized today. With the pack out done (I'll post about that soon, I promise), I feel like a lump today. I have so much that needs to be done, but I am so unmotivated.
4. I sure do have some splendid friends. With all that I go through, as a military wife, I know when my sailor is away I'll have them around for support.
5. I am looking forward to our wonderful future in Hawaii. We'll soon be there and who knows what this wonderful future will hold for us.
Make sure to link up over at Flip Flops & Combat Boots.